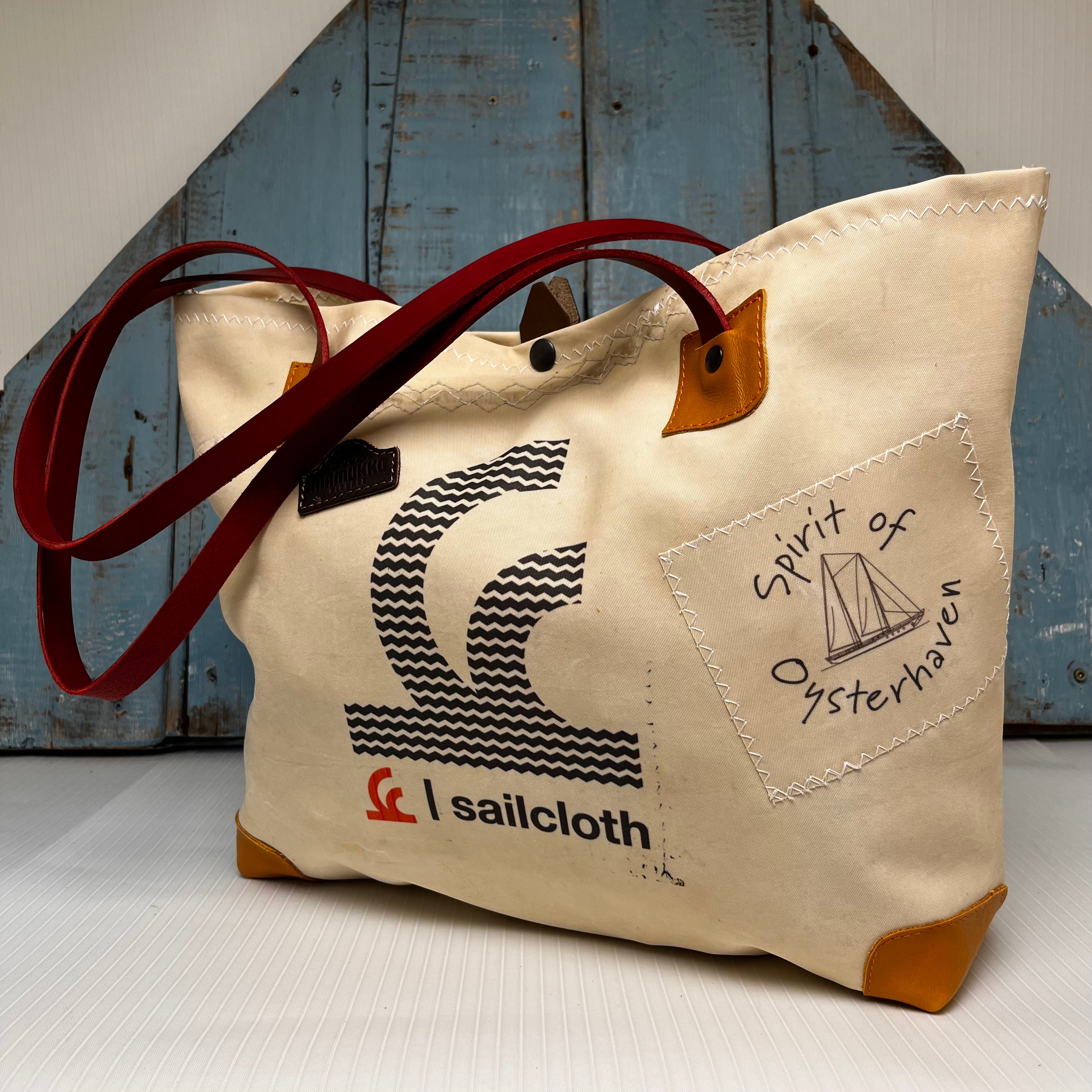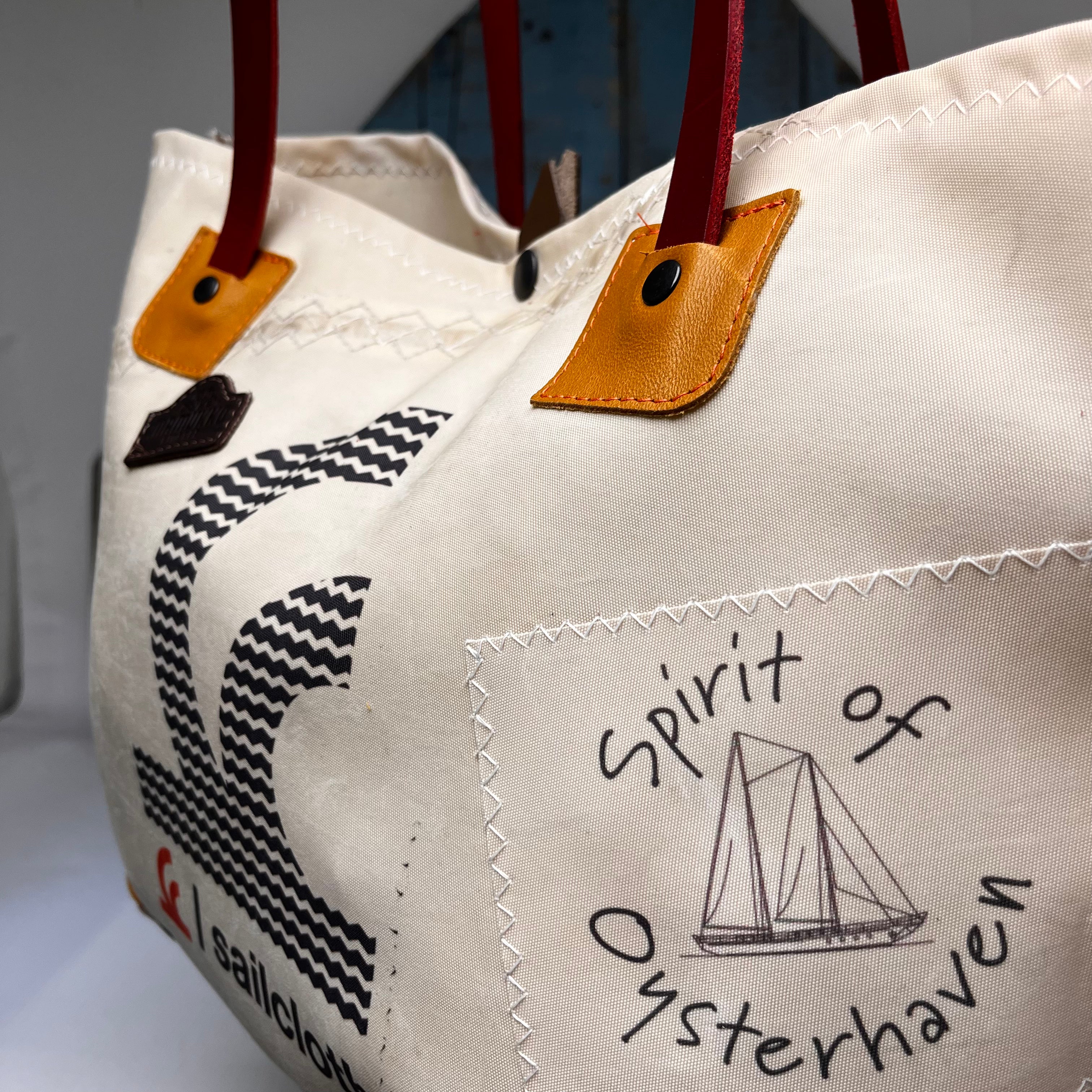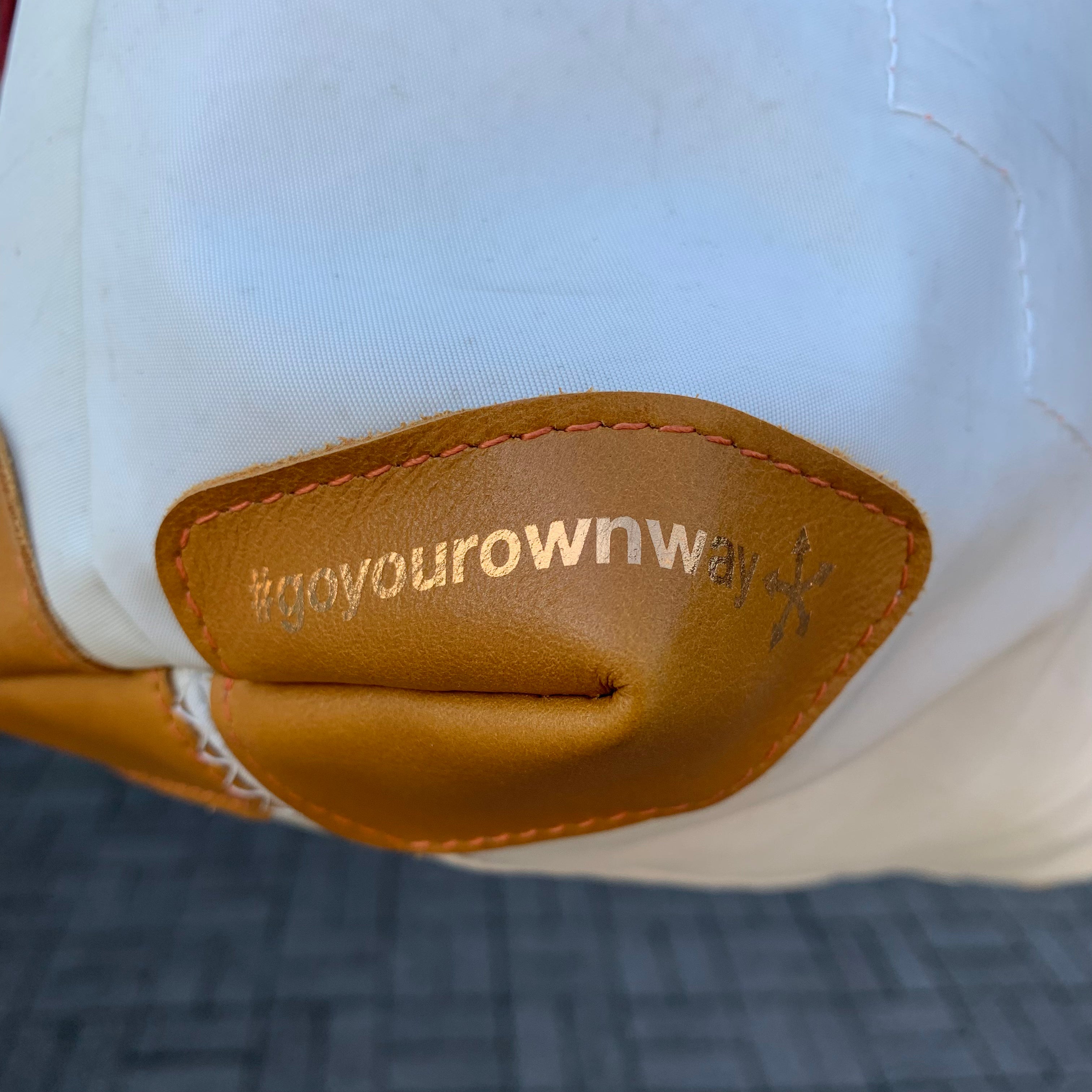 Spirit of Oysterhaven Sailaway Tote
Mamukko's new summer tote bag, crafted from a Spirit of Oysterhaven sail and featuring yellow upholstery leather trimmings and premium Italian veg tan leather shoulder straps. This sustainable and eco-friendly tote bag is perfect for any summer adventure, whether it be a day at the beach, a picnic in the park, or carrying your essentials on a sailing trip. With a spacious interior and a convenient inside leather pocket, this tote bag is as practical as it is stylish. The iconic zig-zagged sail logo on the front adds a unique touch to this already distinctive bag. The use of upcycled materials and the sail not only promotes sustainability but also ensures durability and longevity. Lightweight and spacious, this summer tote bag by Mamukko is the perfect accessory for your next outdoor adventure, whether it be on land or at sea.
More about Spirit of Oysterhaven: 
In 1971, a French yachting enthusiast commissioned naval architect Frederick Parker to design an ocean-going yacht meeting Lloyd's 100A1 classification. The hull was constructed by Joyce Brothers in Hamble, then shipped to France for interior work with luxurious materials like Burma teak, walnut, and teak-holly flooring.

Commissioned in 1972 as "Senouire," the yacht sailed the Mediterranean for private use and charter. After a change of ownership, it became embroiled in questionable activities near the Bahamas, leading to impoundment by the US Coast Guard and eventual sale in Fort Lauderdale.

In 1997, the yacht caught the attention of someone seeking a vessel for yachtmaster training. Following its purchase, it underwent a thorough refit in Cork Dockyard and was renamed "Spirit of Oysterhaven," gaining a Passenger Licence. The yacht appeared in a TV series and sailed to various events, including the Tall Ships event in Dublin.

Spirit of Oysterhaven's journey continued in 2002, with an Atlantic crossing and an inspiring voyage chronicled in Theo Dorgan's book "Sailing Home." Subsequent refits and travels took the yacht to the Caribbean, Mediterranean, Azores, and more, participating in regattas and sail training programs.

Between 2013 and 2017, under Sail Training Ireland, Spirit became a prominent sail training vessel in Ireland, earning recognition and awards. In 2017, it participated in the Antigua Classic Regatta once more before further voyages in the Atlantic, ending with a refit in Galicia.

Now based in Galicia, Spirit of Oysterhaven invites prospective buyers to experience its exceptional sailing qualities during summer months in the Rias of Galicia.
* Handmade in Ireland by Mamukko in small batch of 3
* Stitched to industrial strength with our well respected & looked after Adler sewing machines
* Enbossed Mamukko logo, zig - zagged sail logo and Spirit of Oysterhaven logo
* Dimensions: 40 X 30 X 17 cm
Availability:
Out Of Stock
Regular price

Sale price

$136.00

Unit price

per